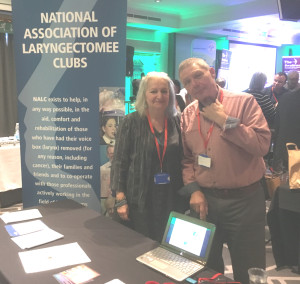 I attended the first conference organised by Chris Curtis and The Swallows in Liverpool in 2016. The event has grown considerably now with one day for clinicians and another for patients. This year in Nottingham, there were speakers from the USA and India, and from Australia via a video link. We heard contributions from clinicians describing examples of good practice and patients sharing their experiences.
Taking one example, Richard Simcock, a consultant oncologist from Brighton, spoke about communication between doctor and patient. His presentation was informative and entertaining and was received very well. I think it worth sharing one suggestion he made about four key questions a patient could ask when discussing proposed treatment with their consultant:
What are the benefits?
What are the risks?
What are the alternatives?
What if I decline treatment?
NALC had a display stand for the two days and several members of the Chesterfield Club were also in attendance. Everyone enjoyed the speakers and exhibits, as well as the chance to share experiences with other patients and carers. One new member said "a few months ago they could not have imagined attending such an event but were very glad they had". Joining a support group and meeting others empowered them for dealing with the rest of their cancer journey.
Next year's conference will be held in Brighton and I recommend it to any head and neck cancer patient or carer.