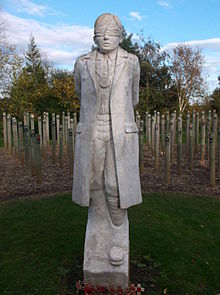 Members had been looking forward for some months to a trip to the National Memorial Arboretum, near Burton on Trent,  Derbyshire. We were very fortunate that after 24 hours of rain the day started and remained sunny and warm.
The Arboretum offers a variety of different experiences ranging from imposing memorials to the fallen to quiet riverside walks with abundant sights of nature to look for. For those who cannot or don't wish to walk great distances there is a land train which visits the key spots.
One memorial that attracts many visitors is Shot At Dawn, the one remembering the 300 or more serviceman who were executed by firing squad for failing to follow orders. In 2006 all these were given an official pardon . Each post displays the details of the serviceman shot and the vast majority were around 20 years old.
The Arboretum is well-worth more than one visit and the unanimous view was we need to organise a second trip next year.  Roy O'Neill was especially delighted to find the memorial for members of the Royal Tank Regiment, in which he served.
( A second picture is in the Gallery)