UPDATE 24/6/20
As was correctly reported last week, shielding will end on July 31st. Further announcements about changes, such as reducing social distancing to 1 metre in some situations, are coming thick and fast. I suspect many of the vulnerable and extremely vulnerable will be making decisions to keep safe, just as they did before the lock-down. The situation, for many, may be getting a bit confused and further guidance is needed in good time.
This article raises some valid concerns.
UPDATE 18/6/20
The Health Service Journal has reported shielding is likely to continue until July 31st.
If you are currently shielding and are not getting the support needed then this may help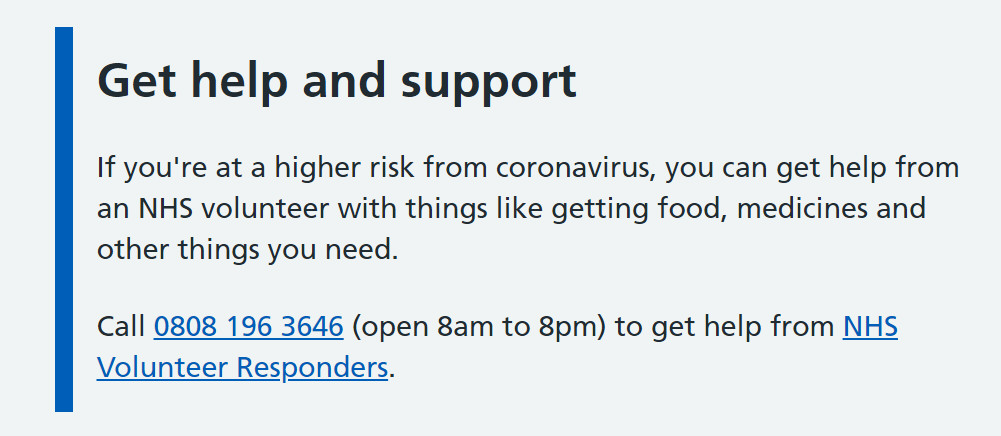 UPDATE 25/5/20
Public Health England have advised us that laryngectomees are not going to be added to the extremely vulnerable group. However there is a route an individual can take and that is to seek help from their GP or hospital clinician who have the power to add the patient to the group. In my experience hospital clinicians have provided better support to our community.
The current period for which this group have been asked to isolate completely at home extends to the end of June. There remains the possibility they may be advised to continue to do this for even longer, and I assume would continue to get the extra support with the delivery of shopping and medications.
UPDATE 30/4//2020
The CLT have been advised "the Chief Medical Officer's office have now confirmed that their panel will consider this issue". We await further news of the timing.
UPDATE 26/4/2020
NALC joined many clinicians groups such as RCSLT, BAHNO and ENT UK in sending a joint letter to Public Health England last week asking that laryngectomees be added to the list. We await a response and in the meantime contacting a GP for support  (see below) in getting on the list is the best option.
Important information  came from a response to the Cancer Larynegctomy Trust:
From: CANCERPOLICY, England (NHS ENGLAND & NHS IMPROVEMENT – X24) <england.cancerpolicy@nhs.net>
Sent: 09 April 2020 10:50
Subject: RE: Laryngectomy
Yes, someone who has had a laryngectomy is likely to be considered extremely vulnerable as the upper airway cannot be protected as well as usual. Patients should discuss directly with their cancer care team and GP, who will have discretion to add them to the vulnerable list. In the meantime, if they are concerned about their risk of infection they should follow the shielding guidance.
With best wishes,
Kasia
Kasia Olszewska
Parliamentary and Briefings Officer
NHS Cancer Programme
NHS England and NHS Improvement
NALC has had several communications from clubs about the risk status of laryngectomees and the absence of a categorical statement of our inclusion in the list of at risk groups. NALC is  joining with clinician groups like the BLA to pass a strong message to NHS England that we should be specifically included in the lists. This will help in many ways, not least in convincing employers that it is not safe for laryngectomees to turn up to work as normal and accommodations must be made.
It is possible for patients and/or carers to request to be added to the "extremely vulnerable" group. We are aware of laryngectomees who have successfully used the link below, but others have been rejected. The link is:
www.gov.uk/coronavirus-extremely-vulnerable
On the BBC News website it was reported on April 7th:
NHS Digital, which compiled the list of the vulnerable, said it had identified about 900,000 patients who should have already received an official letter or text.
However, it said GPs and hospital doctors were now adding a further 600,000 patients.
It also advised people to register themselves on the website (see above) if they needed extra help and support.
The Department for Environment, Food and Rural Affairs (Defra) and the Royal College of General Practitioners have also advised those who feel they had been missed off the list to contact their GPs.
Covid 19 is a new virus. It is impossible to have  information about how exactly laryngectomees may be at risk.  Hopefully NHS England will choose to take a safety-first approach in meeting our needs and add us to the vulnerable group on request.