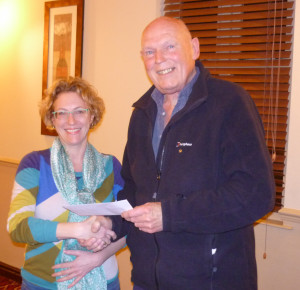 Abi Miller, Clinical Lead SLT for Head and Neck Cancer, at Chesterfield Royal joined us to give a presentation, after attending a recent 3 day masterclass in Birmingham
Abi is seen with Ray Mountain, receiving from HNChelp a donation towards her expenses in attending the event.
Members learned of developments in the treatment of head and neck cancer. Perhaps the most fascinating were about the work of Eric Blom in the USA, who with Mark Singer had originally introduced the use of a voice prosthesis (speech valve). It was good to learn of developments which should lead to longer lasting valves and easier procedures to make a puncture for a valve. More details of Abi's talk will appear in the Resources page shortly.
HNChelp is grateful to Abi for joining us and giving a talk enjoyed by all of us.