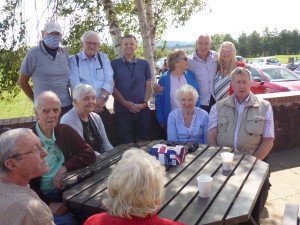 We met again outdoors in August, after a break in July when many members took advantage of the end of restrictions to go on holiday. Before Covid we held our meetings in a pub but members were not ready yet to meet indoors.
As can be seen in the photograph we were blessed with a wonderful summer's day. There was much news to catch up on about holidays and family events, and more seriously some health issues. Some familiar laryngectomee topics of how long valves were lasting without a leak, using nystatin to combat candida and the best shower guard also cropped up.
As autumn approaches we are hoping to have found a new indoor base where we can hold our meetings, but one exclusive to our members and not the general public, to lessen the Covid risk.