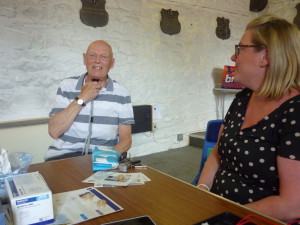 For many years HNChelp have had an excellent relationship with Severn Healthcare. Their representatives have joined our meetings to update members on new prescription items and other products.
Last year we reviewed the range of Romet electrolarynxes, supplied by Severn.  Sadly we felt the devices did not allow speech at a large enough volume. In social situations laryngectomees are constrained by not being able to contend with background noise when trying to speak,
An updated version is now available from Romet and at this month's meeting members were able to try it out, We were delighted to find the problem had been remedied and the electrolarynx now provided a much larger range of volumes.
Severn Healthcare, and Romet deserve great credit for the value they place on securing patient opinions and acting on them.