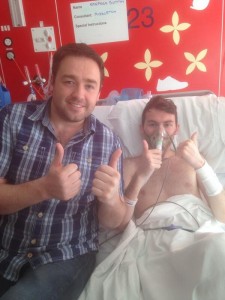 (Jason Manford visiting Stephen in hospital recently)
Stephen was initially diagnosed with cancer aged 15 and sadly a few years later it became clear the cancer was terminal. Stephen, now aged 19, has worked tirelessly to improve the support and facilities available for teenagers and young adults with cancer. Apart from fundraising has been involved with contributing to research as a member of the NCRI  clinical studies group for Teenagers and Young Adults and also the CLG.
Last week, Stephen experienced a deterioration in his condition and posted what he thought might have been a last message on Facebook. The response from the public encouraged by many celebrities was to raise the donations on his Justgiving page from around £500,000 to over £2,500,000 to date.
I had the pleasure of working with Stephen as a member of the NCRI CLG. Please support his fundraising efforts by visiting this link and making a donation.