Our busy programme for December started with a trip to Matlock for the Victorian Weekend Market, last Friday.
After refreshments in the café in Hall Leys Park, we toured the stalls and exhibits in search of items that would be suitable for Christmas gifts. There was a large variety of stalls displaying unusual and exotic foods as well.
Our trip was 24 hours before Storm Desmond arrived and we walked around in warm (for December) sunshine.  The  picture below shows our Chairman, Ray Mountain, trying to "charm the birds" at a display of owls and other raptors..
(click to enlarge pictures)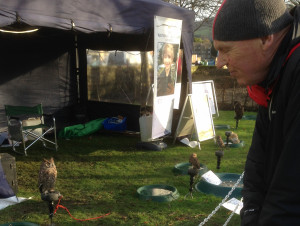 The second event was our Christmas Lunch, with regrettably a few long-standing members absent through illness or other reasons. The hospitality at the Olde House was as good as ever. After the meal we relaxed with a festive quiz, a raffle and a Secret Santa event.