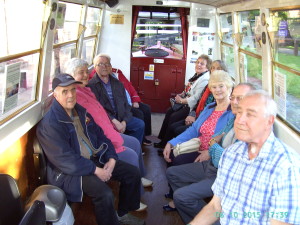 The weather couldn't have been better as members and guests embarked on "The John Varley" barge at Tapton Lock. The "Brindley" Chesterfield Canal probably couldn't have looked better as "The John Varley" started up it's engines and began to cruise along the sunlit placid waters of this historic waterway.
Twelve of us all had an opportunity,in turn, to stand up front at the open end of the barge to take advantage of the natural delights.
Approximately half an hour later we disembarked at our venue,  "The Mill" pub, cafe and restaurant which was adjacent to the canal, where we all enjoyed a drink and a two course meal.
After a having a laugh, socialising and participating in a raffle we all hopped back on to our waiting waterway taxi to cruise back to Tapton Lock, arriving back at approximately 9.30pm.
A very pleasant time was had by all and talks of repeated trips which could include the finest fish and chips was an indication that everyone enjoyed themselves and undoubtedly would like to do it again sometime.
June 10 2015