This year the location chosen for the NALC lunch was Harrogate, at the Old Swan Hotel. Members of 12 clubs based in diverse locations from London to Newcastle, including 9 of us  from HNChelp, attended the event. We were looked after well by our hosts and the food was excellent.
NALC is charting uncertain waters, now that Macmillan is phasing out its funding. As a result there was considerable attention on fundraising. HNChelp members, led by Marjorie Thorne, have put in place the first major fundraising activity, the Ribbon project. As well as selling ribbons, the project involves  raising awareness of the signs of head and neck cancer to encourage early diagnosis and improve the chances of survival.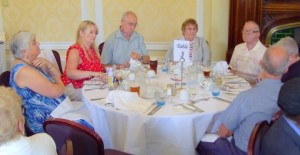 The gallery contains some more photographs taken on the day.